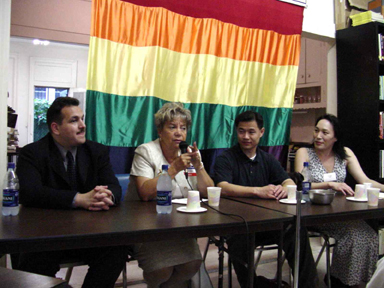 On Monday, July 23, the Out People of Color Political Action Club and
Queens Pride House (a center for the LGBT communities of Queens)
sponsored a forum at Pride House on people of color and the changing
face of Queens politics.

The participants included (from left to right) Hiram Monserrate,
Democratic candidate in the 21st Council district; Councilmember Helen
Marshall (21st), Democratic candidate for Queens Borough President; John
Liu, Democratic candidate in the 20th Council district; and Pauline Park,
secretary of Queens Pride House, who moderated the event.

The event was co-sponsored by Black Prride, Gay Asian & Pacific Islander
Men of New York (GAPIMNY), Gay Men of African Descent (GMAD), Latino Gay
Men of New York, Latitud 0 (LGBT Ecuadorian group), the Empire State
Pride Agenda, and the New York Association for Gender Rights Advocacy
(NYAGRA).

[Photo Album Sub-Menu] [Home]